If you own an electric vehicle, or you are planning to have one, it is a wise idea to also buy an EV charger. This will help you charge your car safely and conveniently from the comfort of your home.
For more info about how to charge your vehicle at home, please read our article on the subject to learn about the requirements.
So what are the best chargers for charging an EV at home?
As you might be aware, EV chargers come in three categories, including Level 1, Level 2, and Level 3 chargers. The main difference between these chargers is the time they take to charge your EV fully.
Here is a comprehensive list of highly efficient chargers you can use to charge your EV at home.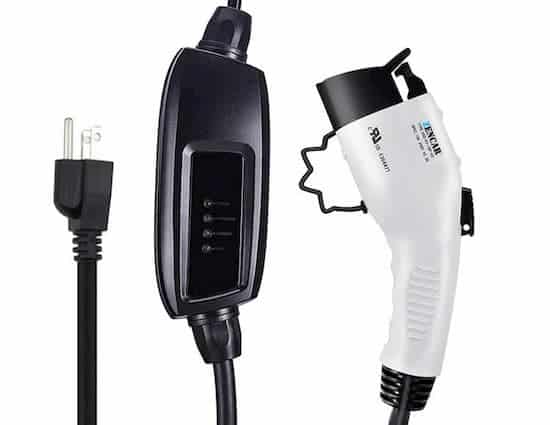 The Zencar Level 1 Charger is a simple but effective charging station that every new EV owner should install at home. The charger adapts easily to all types of charging outlets, and it works well with nearly all electric vehicle models. Moreover, it comes with a 25-foot cable for convenient charging, no matter the location where you mount the charging station.
With a maximum AC charging current of 16 Amp and 120V of power output, the Zencar Level 1 charger might take time to charge your car. Nevertheless, the slow charging speed goes a long way to protect the lifespan of your battery.
In terms of safety, the Zencar Level 1 charger is lightning-proof, waterproof, flame resistant, and it comes with various features that provide protection against overheating, overvoltage, under voltage, leakage and short-circuiting. This means that you can charge your EV at any time, even in bad weather.
Key Features
16A/120V output power
Multiple protection
25-feet charger cord
UL Certified
1-year Warranty
Pros
Needs no assembly
Works with all EV models
2X faster than ordinary Level 1 chargers
Easily upgradeable to Level 2
Weatherproof
Cons
---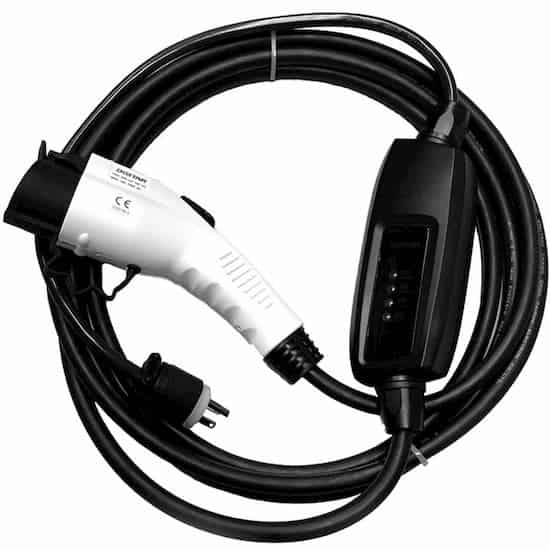 EV Charge Solutions is a company renowned for producing top quality accessories for electric cars. This portable Level 1 charger is one of their flagship products designed for the American market. The charger plugs into any standard 110v outlet, making it ideal for home use. Moreover, it weighs less than 6 pounds, meaning that you can carry it along on your travels, for convenient charging wherever you go.
As far as performance is concerned, the charger comes with a 16 Amp rated J1772 SAE connector that is compatible with most electric car models. Nevertheless, you will need to acquire an adapter to charge a Tesla EV as the connector is not compatible with this vehicle model.
The highlight of this charger is its simplicity and ease of use. The unit features a control box that allows you to adjust charging times. It also features LED indicators that you can use to view the progress of the charging process.
Backed by a one-year warranty, there is no reason why this charging station should not feature in your EV garage.
Key Features
24-foot charging cable
Universal compatibility
LED charge status indicators
Control box
1-year warranty
Pros
Reputable brand
Safe for lithium-ion batteries
Lightweight for enhanced portability
Fairly priced
Cons
Low voltage means slow charging speeds
---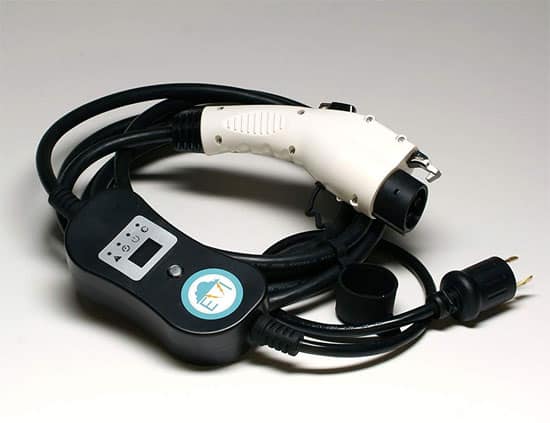 The Deluxe Dual Voltage Smart Charger is the perfect choice for anyone looking for a versatile EV charging station. This portable charger comes with Level 1 and Level 2 charging capabilities. Essentially, it can work as a slow charger or a fast charger, depending on your needs. If you want to charge your car overnight, you can set the charger to power up your battery at a Level 1 charge rate, so that it does not shorten its lifespan.
Besides its dual capabilities, this charger supports both 110V and 240V outlets. This means you can use at home or even convert it into a commercial charging station. Furthermore, it is compatible with all major EV automakers as it comes with a NEMA 5-15 and a 14-50 plug adapter set.
What is more amazing is that the Deluxe Dual charger only weighs 5 pounds. This means you can carry it along on your trip.
The only concern is that the charging cord is only 18 feet long. However, the Deluxe Charger makes up for this shortcoming by delivering an exceptional charging performance.
Key Features
Universal compatibility
SAE J1772 compliant
Smart LCD display
NEMA 5-15, 14-50 adapter set
Dual Voltage 110V & 240V
Pros
Extremely versatile
Portable charger
Can also charger older EV models
Budget-friendly
Cons
The charging cord is only 18-feet long
---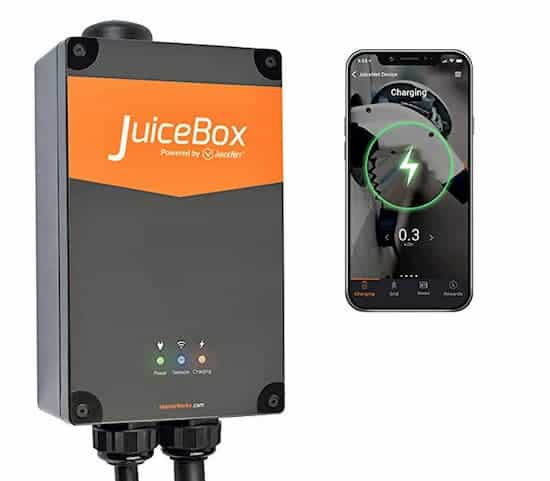 Smart Technology is a concept that has become part of our everyday lives. If you are searching for an EV charger that comes with smart features, then look no farther than the JuiceBox Pro 40A Smart Electric Vehicle Charger.
Firstly, the charger comes in a sleek, futuristic design that will "wow" you from the onset. Besides its superior aesthetics, the charger delivers a staggering 40A of power, unlike its closest competitors, that can only produce 32 amps. In addition, the unit comes with a charging rate of 10kW, which is higher and faster than most Level 2 chargers on the market.
Notably, the JuiceBox 40 as a plug-in unit with a NEMA 14-50 Plug that is compatible with all types of power outlets. You can install it either indoors or outdoors, depending on the available space, making it ideal for home and apartment-dwelling electric car owners.
The best part is that the charger is easily controllable using the JuiceNet mobile app. The app allows you to schedule and monitor your charging sessions to avoid peak electricity rates. You can also use Voice control to start, stop, or schedule your charging sessions. Apart from receiving notifications on your phone, you can view the status of sessions using the LED indicators that come with the charger.
In terms of safety, the JuiceBox Pro 40 comes in a sturdy, waterproof, fireproof aluminum enclosure that allows you to use the charger in extreme weather conditions, without the risk of electric shock.
Key Features
40A power output
Smartphone access
LED display for power and charging status
24-ft output charging cable
J-Plug and cable hanger
Pros
Easy to install
Allows load sharing for multiple units
Energy efficient charger
Comes with a quick-release mounting bracket for enhanced portability
Cons
The price is on the higher end
---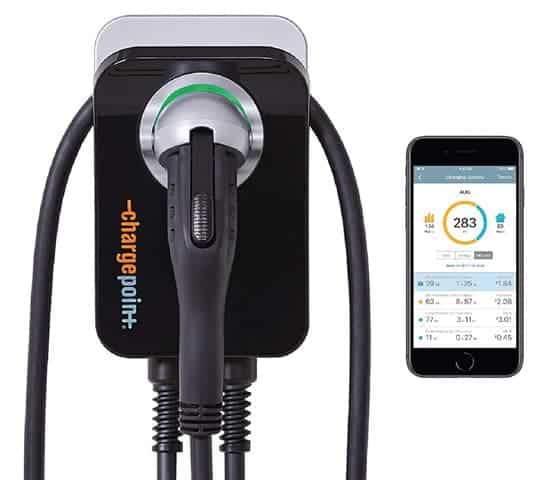 The ChargePoint Home 25 is one of the most advanced EV chargers available on the market today. The charger is WiFi enabled, which allows you to connect to the charging station via the ChargePoint app.
The app and charger both display charging data in real time, including info about the electricity cost of each session and the previous charging history. You can also start or stop charging sessions remotely using your mobile device. Amazingly, you can schedule charging sessions, especially when electricity costs are low. This allows you to control your power usage, and it helps you regulate or monitor your charging sessions. Besides the app, you can also control the charger using the Alexa Voice Control system.
In terms of performance, ChargePoint Home produces up to 32-amp of current, and it can charge all types of EV models 6 times faster than ordinary chargers. Averagely, this Level 2 charger can add up to 25 miles of range.
What is more amazing is that installing the charger is very easy, as it does not require any special technician other than a licensed electrician. As a freebie, ChargePoint also offers a $50 credit to all new users who install and activate the ChargePoint Home charger at home. You may use your credit to charge at any ChargePoint public station across the nation.
Key Features
Level 2 240V charger
NEMA 6-50 adapter set
Universal compatibility
Built-in connector holster
Wi-Fi enabled charger for remote scheduling
UL certified
Pros
Fast charging speeds
Energy efficient charger
Allows for remote control and voice control
Offers charging data in real-time
Sleek design
Cons
The cost is slightly on the higher side
---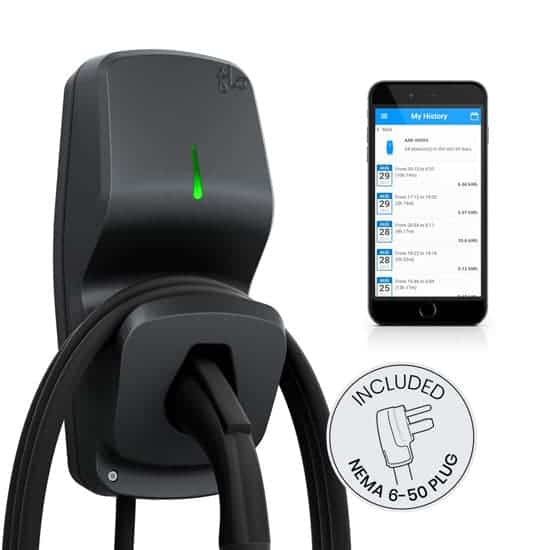 As the name suggests, the FLO Home X5 Carbon is an exceptional charging station with the ability to charge EVs 5 times faster than an ordinary Level 1 outlet. Furthermore, the charger is well suited for charging all types of electric cars, including the latest models available on the market. This makes it the perfect choice for anyone looking for a high-performance charger with universal compatibility.
Besides its superior performance, the manufacturers of the FLO Home assert that it is the only NEMA 4X certified charger on the market. This is seemingly because it comes in a 100% aluminum casing that can withstand extreme weather conditions. Although it is not portable, the FLO Home X5 features a 25-ft industrial-grade cable for enhanced flexibility.
Like the ChargePoint Home, the FLO Home charger offers smart features, such as real-time charging data, and scheduling. You can start, stop, or schedule your charging sessions during off-peak periods using the FLO Home mobile app. You can also track energy consumption and limit power during peak periods. The best part is that FLO Home also offers real-time technical support, including software updates via the app. This guarantees quality service throughout the lifetime of the charger.
Key Features
240V voltage and 30A current
25-ft charging cord
Smart features (charging schedule, real-time support)
CSA-certified
5-year limited warranty
Pros
High-quality charger
Comes with smart features
Sturdy construction for enhanced durability
Fast charging speeds (X5)
Cons
---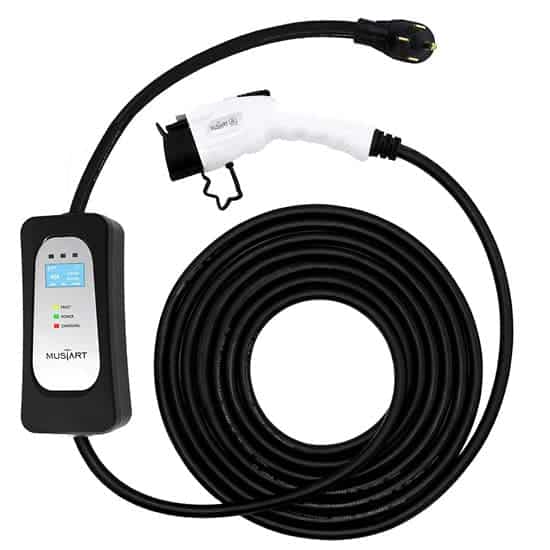 The MUSTART Level 2 charger is yet another high end charging station that deserves recognition, thanks to its efficiency. The charging station delivers up to 40A of power, and it charges 2.5 times faster than a regular 16A Level 2 charger, and 5 times faster than a Level 1 EV charger. Moreover, the charger supports 220V and 240V of voltage, and it comes with a NEMA 14-50 adapter plug, for fast and efficient charging. This makes it ideal for quick charging sessions in between trips.
Like most modern EV chargers, the MUSTART charging station is super compatible with most electric cars, including the Nissan LEAF, Chevy Volt, and BMW I series among others. It also features a 25ft charging cord for flexible installation and convenient charging.
What is more amazing is that the charger is extremely portable, as it only weighs slightly over 8 pounds. The charger also comes with multiple protection features for enhanced safety. It is lightning-proof, waterproof, flame-resistant, and it has overvoltage and overheat protection, allowing you to charge your EV safely.
Key Features
40-amp power output
Super compatibility with all EVs
Cable dock and carrying bag
25-ft charging cord
2-year warranty
Pros
Lightweight and extremely portable
Faster charging speeds
Very easy to install and use
Excellent safety features
Fairly priced
Cons
The charging cable heats up quickly
---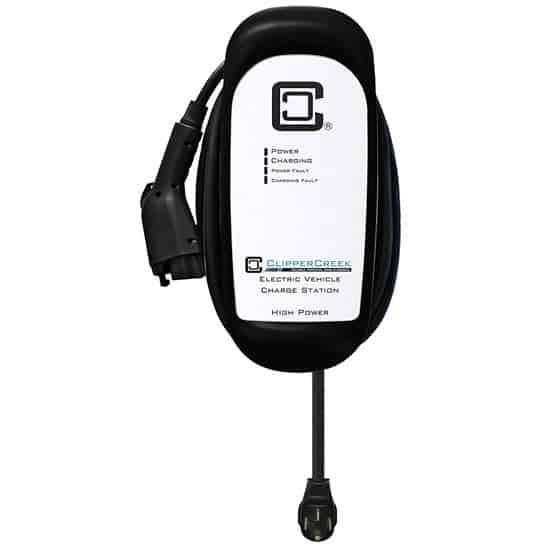 For those who love homemade products, then the ClipperCreek HCS-40P is the ideal charger for you. ClipperCreek is an American company renowned for manufacturing durable and dependable charging stations. It is therefore not surprising that the HCS-40P is one of our favorites.
Notably, this charging station is capable of delivering up to 32 amps of power, and it can charge your car 5.5 times faster than an ordinary Level 1 charger. Moreover, the charger is available as a plug-in unit, and it comes with a NEMA 14-50 adapter set. This means you can use it with any standard 220v-240v power outlet.
Another highlight of this charger is its cable management capabilities. The charger features a cable wrap and a wall mount connector holster that allows you to store the charging cord neatly to avoid accidental damage. What is more amazing is that the holster is lockable for enhanced security.
In terms of safety, the ClipperCreek HCS-40P is in a class above the rest. The charger meets all the latest safety requirements for indoor and outdoor charging stations. Backed by a 3-year warranty, it is not surprising that the HCS-40P is quite popular with EV drivers.
Key Features
32A power output
25-ft charging cable
Universal compatibility
Wall mount connector holster included
Made in the USA
3-year warranty
Pros
Very easy to install
Portable
Robust design for enhanced durability
Safety certified charger
Lockable for extra security
Cons
The charger is large, and requires plenty of space
---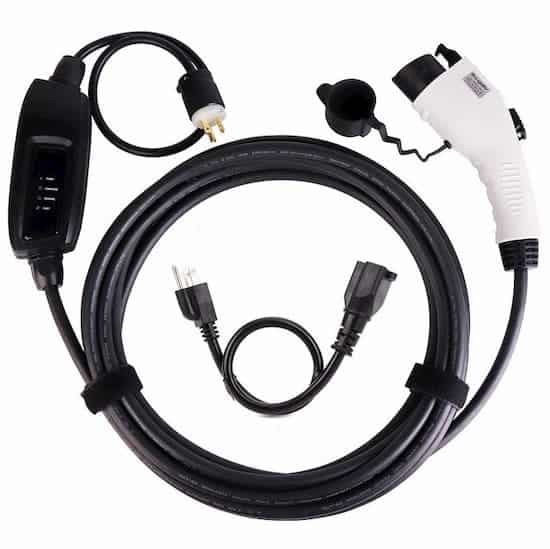 The BougeRV Level 2 charger is another portable, high-performance charger that you should consider for your electric car. The charger supposedly charges 3 times faster than a standard level 1 charger. This means less waiting times as you charge your EV in between trips.
Even though it has a power output of only 16 amperes, the low current is good for your battery, as it means a longer lifespan. Moreover, it features a NEMA 6-20 plug at 240V, which is compatible with most home power outlets. Amazingly, you can downgrade the charging station to Level 1 whenever you wish, thanks to the 110V 5-15P adapter that comes with the charger.
As if that is not enough, this charger by BougeRV is extremely portable. It weighs less than 8 pounds making it easy to carry along for longer trips. In addition, the charger features a long, 25-ft charging cable that you can use to charge your car conveniently. It also has an EVA case where you can store the charger when not in use.
Key Features
16A power output
Comprehensive protection
Level 1 adapter
LED charge indicators
1-year warranty
Pros
Compact design
Faster charging times
Easy installation
Comes with a case for storage and transportation
Affordable
Cons
The holster is not steady
---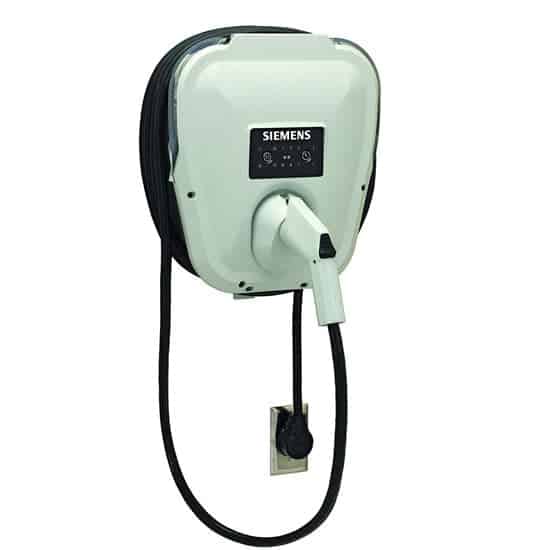 The Siemens brand does not need any introductions as far as electrical gadgets are concerned. It is therefore not surprising that the Siemens VersiCharge 30GRYU is one of the most popular EV chargers on the market today. It works with all J1772 compatible vehicles, making it the ideal choice for many EV owners.
The charger boasts of 30A of power, which is sufficient to charge your vehicle 4 times faster than an ordinary Level 1 charging station. The charging station comes with a NEMA 6-50 plug that supports standard 240V power outlets. The fact that you can use the charger with standard outlets means that no complex installation is necessary.
Another interesting feature is its flexible control mechanism. You can easily pause and schedule your charging sessions using the built-in controls on the charger. You may delay your charging for 2, 4, 6, or 8 hours for off-peak charging when the rates are lower. The unit also has indicator lights, which you can use to view the progress of your charging sessions.
Key Features
30A power output
20-ft charging cord
Universal compatibility
Flexible control
3-year warranty
Pros
Siemens is a reputable brand
Easy to assemble and use
Faster charging speeds
Excellent power output
Quasi portable
Cons
A little bit pricey
Tech support needs improvements
---
Factors to consider when buying an EV Charger
Charging Level
EV chargers come in three different levels ranging from Level 1 to Level 3. How fast a charger can charge your vehicle depends on its charging level. Level 1 chargers are the slowest and take up to 10 hours to add 45 miles of range. On the other hand, Level 3 chargers are the fastest and take as little as 10 minutes to add 80% capacity.

Plug and Connector Compatibility
Electric vehicles come with different types of connectors for charging. With this in mind, knowing the type of connector your car uses will determine the kind of home charger you have to buy. The most prominent examples of connectors include SAE J1772, CHAdeMO, SAE Combo, IEC 62196 Type 2 connector and Tesla HPWC connector.

Cable Length
The length of the charging cable is a vital factor in determining the efficiency of the charger. If you have to install the charging station far away from your garage, it is crucial to acquire a charger with a longer cable. This will enable you to charge your EV conveniently. The recommended length is about 20 feet with the longest cable being 25 feet.

Portability
The majority of home EV chargers are stationary. However, manufacturers have realized the need to produce portable EV charging stations as well. Therefore, if you frequently travel over long distances, then you should consider buying a portable EV charger that will enable you to charge your vehicle anywhere, as long as you have access to a power outlet.

Safety
Safety is a significant consideration when buying electrical gadgets, and an EV charging station is not an exception. A good EV charger should come with safety elements to protect you from the risk of electric shock while guarding the vehicle against damage. The charger should include an individual electrical circuit command with features such as a residual current device and a circuit breaker.

Additional Functions and Accessories
If your parking lot is easily accessible to the public, then it is advisable to acquire a charging station that comes with access restriction. This additional function gives you control over who can use your charger.
The charger should also come with a cable hanger, where you can hang the charging cable when not in use. This will prevent improve the lifespan of the cable.
Brand
Always go for top quality brands that have the approval of leading automobile manufacturers. The chargers should also have the mark of quality from relevant certification agencies. Moreover, buying from an established manufacturer will ensure that any future updates and replacement parts are readily available to you.
Costs
The price of the charging station should not be a big issue as long as the charger offers a superior and reliable performance. Nevertheless, you would want to consider the installation costs, as the price might go up if the charger comes with additional features. In addition, you should only opt for a charger that is within your budget.
Warranty
An electric vehicle charger is an expensive acquisition. For this reason, it is essential to buy a charger that comes with a warranty cover of at least one year to protect your investment from any damage caused by the manufacturer's negligence.
Final Verdict
Choosing the best EV charger for charging at home entirely depends on your needs and preferences. If you want a charger that is fast, reliable and offers superior performance, then you could consider the JuiceBox Pro 40A. For a portable, budget charger that offers an above average performance, then consider the Zencar Level 1 or the Deluxe Dual Voltage EV charger.
Whatever your preferences, just about all the chargers in our list, are dependable and highly efficient. So make a move and start charging your car at home using a charger that you can rely on.