Just like an ordinary, generic car, your electric vehicle may breakdown due to battery issues.
Notably, most electric cars come with two batteries that perform different functions. The first one is the main lithium-ion battery that runs the electric motor, while the second is a 12v lead acid battery that powers auxiliary features like the lights, air con, and windscreen wipers. When the main battery runs out of charge midway through your journey, you may have to jump-start it before you can recharge it again.
So what is the best EV battery jump starter?
Well, with a wide range of jump starters available in the market today, finding the right one for your electric car could prove to be a challenge. Nevertheless, here are a few factors that you should consider to find the most suitable jump starter.
Features to look for when buying an Electric Car battery jump starter
Power capacity
Various jump starter models come with different power ratings which range from 400mAh to 20,000mAh. The power rating of the jump starter will determine the number of times you can jump start your vehicle on a single charge. Moreover, a starter with a higher power capacity is ideal for additional applications such as charging your phones, laptops, and other devices.

Portability
An ideal jump starter should be compact, lightweight, and portable, allowing you to carry it along during your travels without causing any inconvenience. The good news is that most EV battery jump starters are easily transportable. Moreover, they come in various dimensions, allowing you to keep the starter in confined spaces.

Design
The design is another critical consideration when shopping for a jump starter. Ideally, the starter should have a rugged design to withstand harsh conditions and extreme weather. In addition, the casing should be sturdy, while the cables and clamps ought to be as tough to endure breakage or wear.

Safety features
Safety is of great importance when jump-starting the battery of an electric car. With this in mind, you should purchase a starter that offers maximum protection against electric shock or damage. Some of the safety features to consider include current, over-voltage, over-charge, and high-temperature protection.

Extra features and accessories
Besides jump-starting your car, a starter may come with extra features that might be helpful during your travels. Features such as USB ports, air compressors, and LED flashlights may come in handy when you want to charge your gadgets, inflate your tires and light dark spaces respectively.

Budget
The price of a jump starter is also an important consideration to make. Ideally, you should go for a starter that offers good value for money, and meets your expectations without compromising on your budget.
Our top picks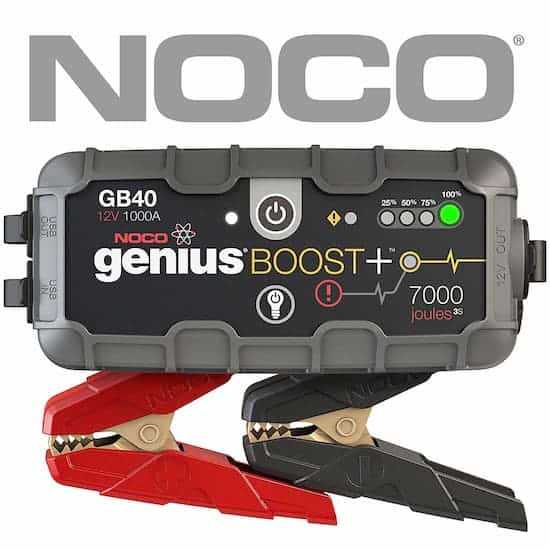 The Noco Boost Plus 40 is a 1000amp-rated lithium jump starter that supports up to twenty jump starts on just a single charge! Moreover, the starter is widely lauded for its compact and lightweight design as it measures 3.2 x 1.7 x 6.7 inches and weighs 2.4 pounds respectively.
What is more amazing is that this jump starter comes in a mistake-proof design with a handful of safety features that guarantee an ultra-safe start every time. Some of the most prominent protective features include reverse polarity protection and heavy duty battery clamps for added safety. The jumper box also consists of a bright 100-lumen LED flashlight for strobe and emergency SOS.
Besides jump-starting dead batteries, this jump starter pack features two USB ports that you can use to recharge your tablets, smartphones and other mobile gadgets. The best part is that the starter can hold its own charge for up to one year without requiring a recharge.
Features
1,000 Amperes
20 jump starts on a single charge
12V output
100-lumen LED flashlight with 7 modes
USB charging capability
Pros
Compact, lightweight design
Easily portable
Numerous safety features
Multiple applications
Cons
The warranty period is only 12 months
---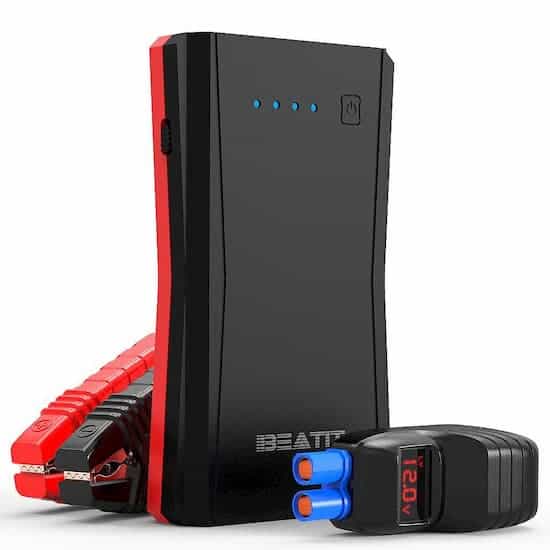 The BEATIT B10 PRO positions itself as the most compact and portable jump starter kit available in the market today. Indeed, the starter box measures 3.3 x 5.7 x 1 inches only, which is small enough to fit inside the glove box of your electric car!
Apart from its compact dimensions, the starter has peak amperage of 800A, and has the capacity to jump-start any drained battery up to 20 times on a single charge. What is more interesting is that the jump starter is compatible with all automobiles, boats, and machines that use 12V lithium batteries.
Like most modern jump starters, the BEATIT B10 PRO also comes with an 800mHA power bank and twin USB ports that can charge all your mobile devices, including tablets, laptops, and smartphones twice as fast as other ordinary power banks.
As far as safety is concerned, this jump starter is equipped with 5 unique safety features, including over-current, overload, over-voltage, over-charge, and high-temperature protection.
Features
800 Amperes
20 jump starts on a single charge
Built-in voltmeter
USB charging capability
Extended jumper cables for easy reach
Pros
Lightweight design
Very easy to use
Numerous safety features
Offers good value for money
Cons
Requires recharging every 3-4 months
---
As the name suggests, the DBPOWER DJS50 is a portable jump starter renowned for its powerful performance. The starter box can jump start all types of batteries up to 30 times on a single charge thanks to its 600A peak storage.
Moreover, it comes with a smart USB port with an 18,000mAh capacity, capable of charging a wide range of applications. The package also includes an 8-in-1 laptop adapter that you can use to charge different types of laptops and additional electrical devices.
In terms of safety, the starter features gold intelligent, heavy-duty jumper clamps that provide protection against overcurrent, overload, over-voltage, short-circuiting and overcharging. The jump starter also has an LCD screen that you can use to establish the exact power remaining in store. Interestingly, the jump starter also has a digital compass that you can use to find your way home in case you get lost in the wild.
The fact that the jump starter is very easy to use makes it ideal for newbies and experienced motorists alike.
Features
600 Amperes 18000mHA
LCD screen and compass
Smart USB port
3-year warranty
Pros
Excellent build quality
Superior jump starting capability
Wide range of safety features
Includes a compass
Cons
Might not be ideal for regular use
Conclusion
Driving an electric car can only be fun until the batteries run out of charge. However, with a portable jump starter at your disposal, you can always rest assured that you will get moving and reach home safely even when car trouble hits. With this in mind, it is imperative to acquire one and carry it along every time you are on the move.